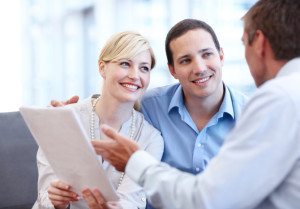 Independent financial advisors provide services tailored to each client's needs and objectives. The advisors provide overall wealth management, tying in each individual's goals to reach their needs. Based on the information the advisor learns from the initial meetings, the advisor can provide solutions for insurance, education, and overall investments. The final recommendations may include a variety of investment programs and products. The advisor will work to select suitable options including stocks, bonds, mutual funds, exchange-traded funds, unit investment trusts, options, variable and fixed annuities, along with an array of professionally managed investment programs. All recommendations are based on the risk tolerance, investment goals, and timeframes of each client.
Wealth Management
As independent financial professionals, a primary focus is to combine personal investment management, financial advisory and planning disciplines for the benefit of individuals, families and high-net-worth clients.  A defining quality of wealth management is that it is delivered in a consultative manner.  By being consultative, wealth managers are truly client-centered.  A good wealth manager meets a client without any presupposition about what financial products or services are appropriate for that affluent investor.
Clients will have a universe of investment programs and products at their fingertips, such as stocks, bonds, mutual funds, exchange traded funds (ETF), unit investment trusts (UIT), options, variable and fixed annuities, along with professionally managed investment advisory programs.
Retirement Planning
The financial advisors offer customized individual retirement planning to help clients achieve their retirement goals. They can guide you in making decisions to help assess how you may cover your retirement expenses. Whether you are planning for, or already enjoying retirement, they will work to develop solutions to help meet your needs. The advisors can provide pre-retirement and retirement income planning, along with professional management of assets for those already in retirement.
Insurance Planning
Understanding the various insurance policies and finding the most suitable coverage for clients is an important service provided by independent financial advisors. Advisors can offer insurance evaluation and solutions, including annuities, fixed and variable life insurance, disability, and long-term care.
Proper planning now can help reduce emotional and financial stress when the need for insurance arises. Adequate insurance for life and long-term care is essential, and careful planning is crucial for nearly any financial goal. Having insurance coverage in place is invaluable, allowing you to focus on what matters most and not worrying about finances.
Whether your needs are for you, your family, or your business, the advisors will explain your choices and help you personalize a plan that fits your situation.
Corporate Retirement Planning
You need professional advice and guidance that can help you develop the right plan for your future and the future of your business. The advisors provide sophisticated planning solutions for your business including qualified retirement plans, succession planning, buy-sell agreements, risk management, non-qualified executive benefits, and employee benefits.
If you would like to learn more about these services, please contact us today.
Sunrise Wealth Partners
12020 Sunrise Valley Dr.
Suite 380
Reston, Virginia 20191
Phone: 703-832-0160
Toll Free: 888-388-0551
Fax: 703-436-2674
Contact Sunrise
Securities offered through Registered Representatives of Cambridge Investment Research, Inc., a broker-dealer, member FINRA/SIPC. Advisory services offered through Cambridge Investment Research Advisors, Inc., a Registered Investment Adviser.  Sunrise Wealth Partners, LLC and Cambridge are not affiliated. Sunrise Wealth Partners, LLC is not engaged in the securities business. 
This communication is strictly intended for individuals residing in the states of AL, AZ, CA, CO, CT, DC, DE, FL, GA, IL, KS, KY, LA, MA, MD, ME, MI, MN, MO, MS, MT, NC, NH, NJ, NY, OH, OR, PA, RI, SC, TN, TX, UT, VA, WA, WI, WV. No offers may be made or accepted from any resident outside the specific states referenced.
Sunrise Wealth Partners
12020 Sunrise Valley Drive
Suite 380
Reston, Virginia 20191
Phone: 703-832-0160
Toll free: 888-388-0551
Fax: 703-436-2674
Contact Sunrise